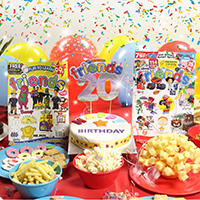 Fun To Learn Friends magazine is celebrating 20 years in the competitive pre-school magazine market!
Friends magazine has consistently maintained a good position in the pre-school category, with a mix of award-winning editorial content and a top line-up of the best pre-school characters.
MD Julie Jones said, "The success of Fun To Learn Friends magazine is testament to our award winning editorial team and the power and creativity of the pre-school licensing industry. We'd like to take this opportunity to thank all our Licensing partners who've come on board over the years – here's to another 20!".